Virtual VLA Tour: 40 Years of Science
August 7, 2021 @ 1:00 pm

-

3:00 pm

MDT

Free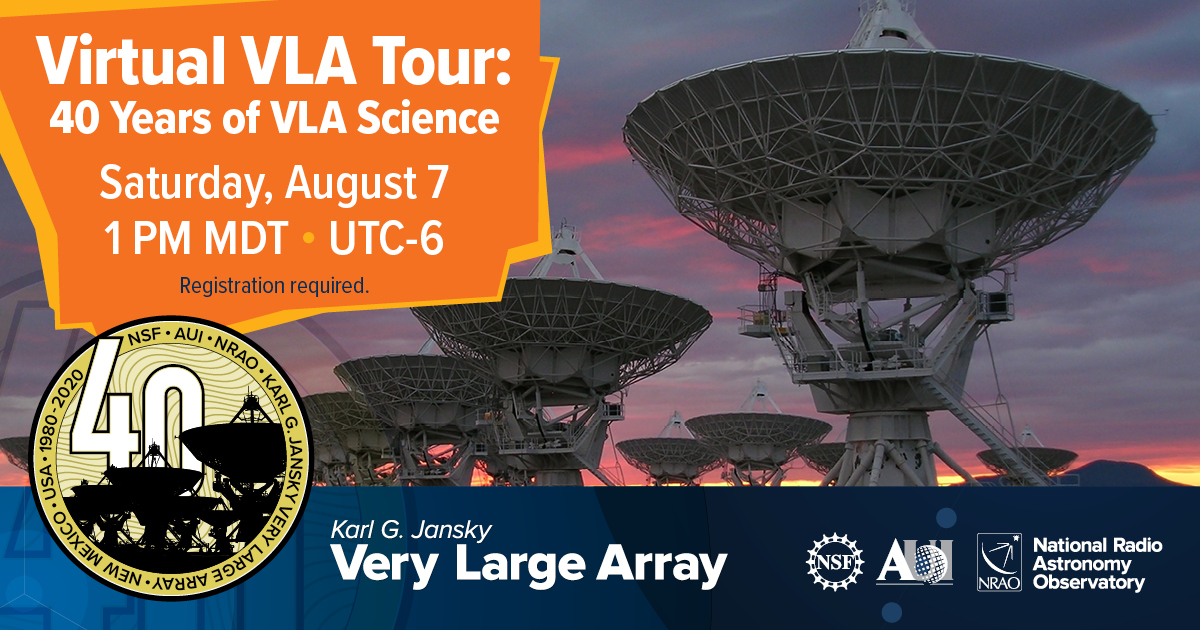 Construction of the Very Large Array (VLA) began in the 1970's, and the array was officially completed and dedicated on October 10, 1980. For 40 years since then, astronomers using the VLA have made countless invaluable astronomical discoveries, greatly broadening our understanding of the universe and serving the scientific community as the most scientifically productive ground-based telescope. Please join us for a virtual tour followed by Q&A with several VLA guest experts as we highlight some of the many fascinating accomplishments the VLA has enabled through the years.
Special guests include:
Amy Barger, Professor of Astronomy, University of Wisconsin-Madison — [Uses the VLA to study supermassive black holes and galaxy evolution]
Shami Chatterjee, Principal Research Scientist, Cornell University —  [NRAO Jansky Fellow 2003-2006, uses the VLA to study pulsars and fast radio bursts (FRBs)]
Ron Ekers, Professor Emeritus of Astronomy, Australia Telescope National Facility, Commonwealth Scientific and Industrial Research Organisation (CSIRO) Astronomy & Space Science — [Director of the VLA 1980-1987]
Kevin Marvel, Executive Officer, American Astronomical Society — [Pre-doctoral Researcher at the VLA 1994-1996]
NOTE: this will be a special two-hour event. The first hour will be a virtual VLA tour with a guest telescope operator and the second hour will be a panel discussion followed by Q&A with the special guests listed above.
The event will take place on Saturday, August 7, 2021, 1-3 PM MDT [Mountain Daylight Time, UTC/GMT -6].
This event will take place on Zoom. Registration is required.
Click HERE to register.