Virtual VLA 40th Anniversary Celebration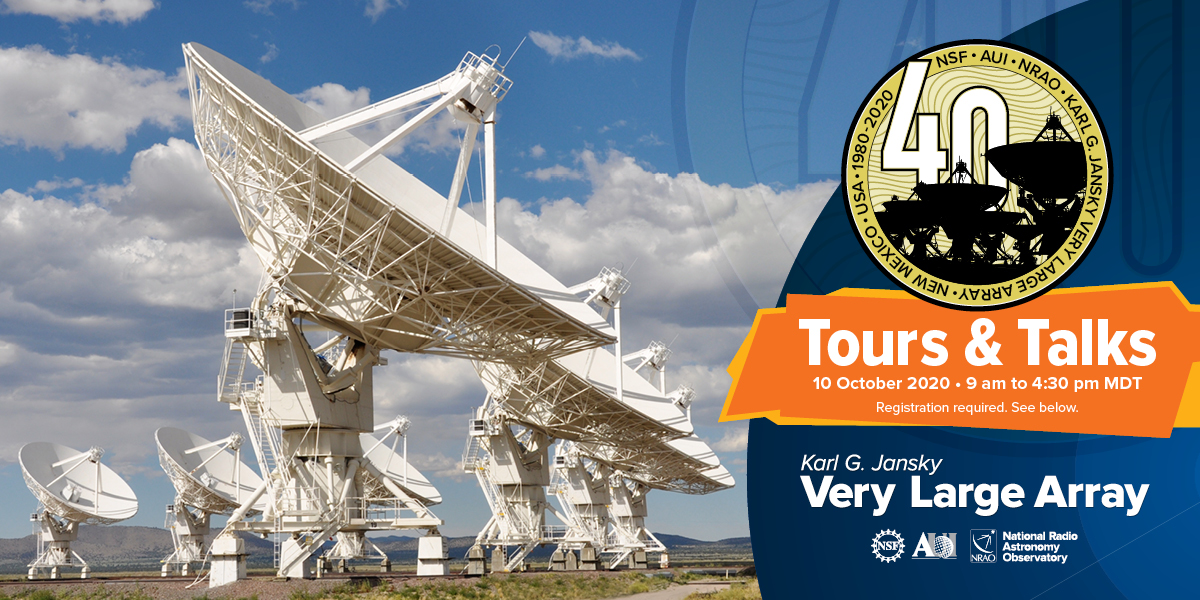 This event will take place on Saturday, October 10, 2020, 9:00am – 4:30pm MDT.
Join us for a very special day-long virtual event to celebrate the 40th anniversary of the Very large Array! There will be talks from VLA staff members on various aspects of this amazing facility and two opportunities to experience a virtual tour of the observatory. You can attend any or all of the program as desired.
Register today to join us in the Zoom room (space is limited) or watch the live-stream on our Facebook and Vimeo pages.

All times in MDT [Mountain Daylight Time, UTC/GMT -6 hours]
9:00am – Virtual Tour*
10:30am – "The Very Large Array: Past and Future" with Dave Finley, Public Information Officer
12:00pm – "Supporting the Very Large Array: A community effort" with Chris Langley, Deputy Assistant Director
1:00pm – "Mapping the Radio Sky" with Amy Kimball, Associate Scientist
2:00pm – "The Next Big Thing in Radio Astronomy" with Rob Selina, Electronics Engineer
3:00pm – VLA image contest winners with Claire Chandler, Deputy Assistant Director
3:30pm – Virtual Tour*
*Please note the Virtual Tours above are identical, repeat events to provide a choice of times for viewers in different time zones.