In light of NRAO's new cooperative agreement, this page is being hosted here temporarily until it migrates to greenbankobservatory.org.

More information...
Visit the Green Bank Telescope
The Green Bank Science Center is open year-round, and serves 40,000 visitors a year. Our 25,000 square foot facility contains the Catching the Wave Exhibit Hall, 150-seat auditorium, classrooms, a gift shop, and even a café.

We offer hands-on activities and StarLab planetarium sessions in addition to guided bus tours of the telescopes, including the world's largest moving telescope, the Robert C. Byrd Green Bank Telescope.

We also create field trip experiences that meet the National Science Education Standards and state-based science learning goals.

Call 304-456-2150 or email gbt-tours@nrao.edu for more information!


When Are We Open?
Summer:
May 27 - Sept. 5, 2016
Daily: 8:30 AM - 7:00 PM
Fall:
Sept. 6 - Oct. 31, 2016
Thurs - Mon 8:30 AM - 7:00 PM
Winter - Spring:
Nov. 1, 2016 - May 25, 2017
Open Thurs-Mon. 10:00 AM - 6:00 PM**

When Are We Closed?
Nov. 22-25 for Thanksgiving Holiday; Dec. 24-26 for Christmas Holiday; Jan. 1-2 for New Years Holiday)



Public Tours
Summer and Fall


(Memorial Day weekend
through October)
Every top of the hour
9:00 AM - 6:00 PM

Winter and Spring


11:00 AM, 1:00 PM, & 3:00 PM
Tour fees: General (Ages 11-64), $6; Seniors (65 and up), $5; Children 10 and under, FREE; Veterans and Active Service Members, FREE.
Group Tours
Motor Coach Groups, School Groups and Youth Groups, Civic Clubs, Amateur Astronomers are welcome! Please contact us for information and reservations. Group tour fee is $3/person. School/youth groups are free.
Motor Coach Tours

Special Tours



Scheduled each month throughout the year, "High Tech Tours" provide behind the scenes glimpses of our labs and telescope control room, normally off limits to the public. Advance reservations are strictly required at least 48 hours before each scheduled tour. Federal regulations require that we pre-screen attendees age 18 and older. For more information consult our 2016 Brochure.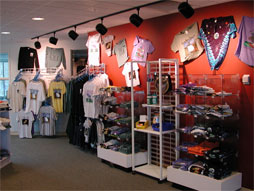 The Galaxy Gift Shop at the Green Bank Science Center is packed with souvenirs, including clothing, mugs, jewelry, books, DVDs, and science toys.
Out-of-this-world Gifts and Treats
When visiting the Green Bank Science Center, be sure to stop by the Starlight Cafe for cappuccino & espresso and great food at reasonable prices. Group meals are available with advance notice. Please call 304-456-2361 for details.
The Galaxy Gift Shop offers a wide variety of NRAO memorabilia, games, science kits, apparel, and more!
How to Find Us
PDF of directions to our Green Bank site.

155 Observatory Road
Green Bank, WV 24944
304-456-2150
gbt-tours@nrao.edu

GPS coordinates for the NRAO Green Bank Science Center are:
38d-25'-48.2"N
79d-49'-03.93"W