In light of NRAO's new cooperative agreement, this page is being hosted here temporarily until it migrates to www.lbo.us.

More information...
Visit the Very Long Baseline Array
Each of the ten sites of the Very Long Baseline Array is a radio telescope outpost staffed with telescope technicians. These are working antenna hardhat sites without tour guides or educational materials; however, you are welcome to have a look from the safe area outside the fenced enclosure. The only exception to this is the Los Alamos site, which is on the Los Alamos National Laboratory (LANL) grounds. LANL requires all visitors to have a previously arranged badge issued through their badge office prior to entering their property.
Brewster, Washington
North from Wenatchee, WA on Rt. 97 to Brewster, WA about 64 miles. Continue North on Route. 97 through Brewster. Turn left at Monse River Rd before bridge crossing Okanogan River. The VLBA Station is 2.8 miles Northwest of intersection of Monse River Road and Route 97.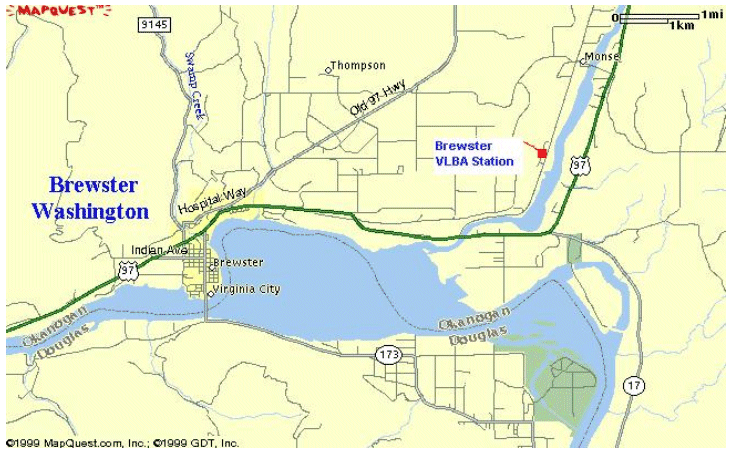 Fort Davis, Texas
From El Paso Texas take I-10 E to Van Horn, 126 miles. Then South on State Rt. 90 to Valentine, Texas. One mile south of valentine turn East on Rt. 505 and 166 to Ft. Davis. Go through Ft. Davis on Rt. 17, 2 miles. Turn left on Rt. 118 NW for 6 miles. Turn right on Sproul Ranch Rd. ( gravel road just before entrance to Prude Guest Ranch ). Follow road across Lympia Creek for 2 miles.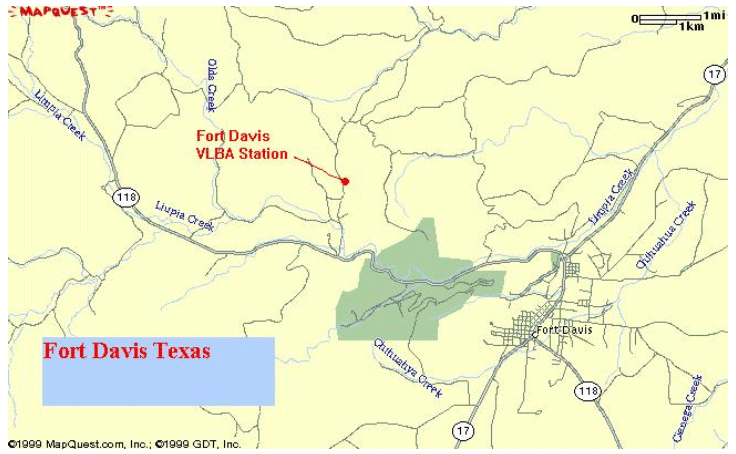 Hancock, New Hampshire
Travel West on NH Route 101 to Peterborough, NH. Approximately 1.5 miles West of Peterborough turn right or North on Union Street. Turn left on Windy Row toward Boston University's Sargeant Camp, about 3.5 miles. Mail Box at 70 Windy Row, Peterborough, NH. Just across the Peterborough/Hancock town line in Hancock NH. (The antenna is .25 miles before Sargeant Camp entrance.)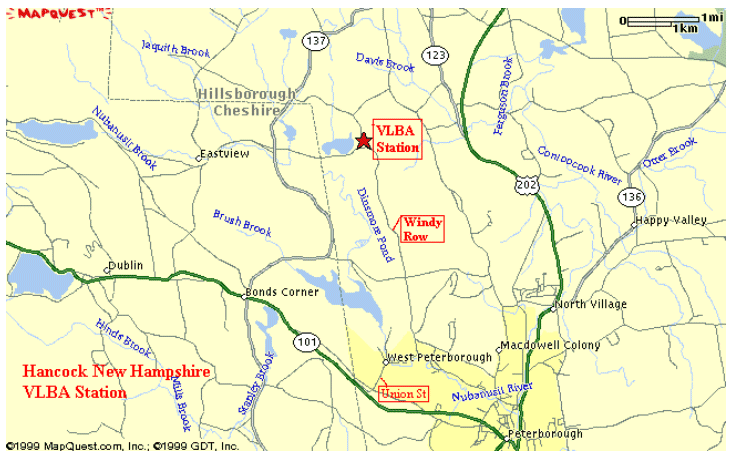 Kitt Peak, Arizona
Take state Route 86 approximately 54 miles from Tucson, AZ toward Ajo, AZ. Turn left on State Route 386 to Kitt Peak National Observatory. Travel 10 miles then turn left at the picnic area sign near the top of the mountain. See map next page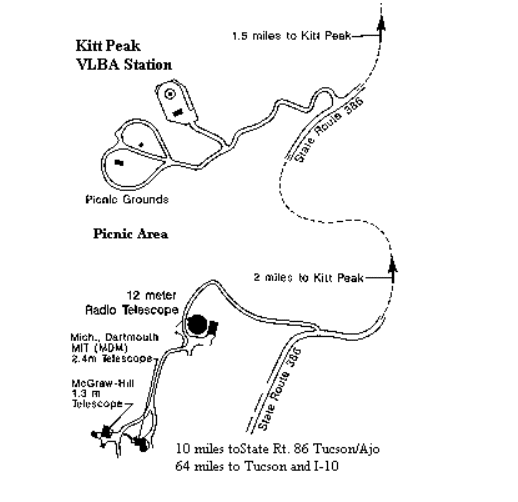 Los Alamos, New Mexico
Approximately 38 miles North of Santa Fe on US Rt. 84/285 about 16 miles. Turn left at Los Alamos exit to Rt. 502 West. Follow signs towards White Rock and Bandelier National Monument. On NM Rt. 4, approximately 8 miles west of White Rock, NM turn left at Tech Area 33 of the Los Alamos National Laboratory (LANL). Access onto the LANL grounds requires a previously arranged badge issued through their badge office. Station Access Instructions are in Telephone Box located outside gate to TA-33.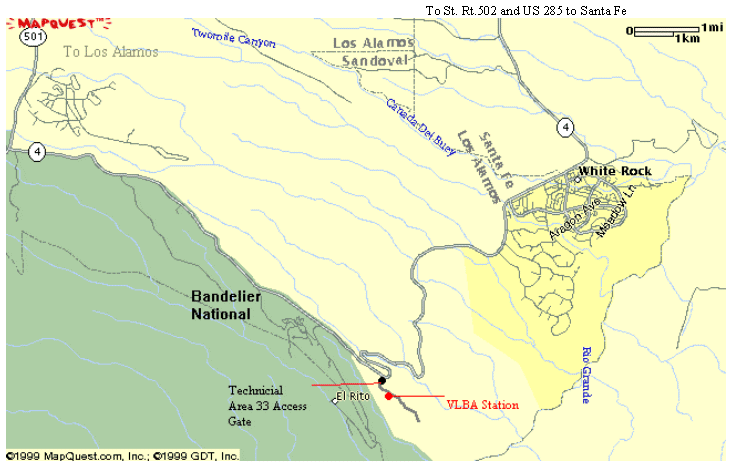 Mauna Kea, Hawai'i
From Hilo Hawaii take State Route 200 (Saddle Road) to Mauna Kea Access Road. Travel to Mauna Kea Support Services facility at Hale Pohaku (approximately 5 miles on paved road). Take four wheel drive road toward summit of Mauna Kea for about 4.5 miles. Turn right at NRAO sign and travel Northeast from John Burns Highway on gravel road. The antenna cannot be seen from the highway.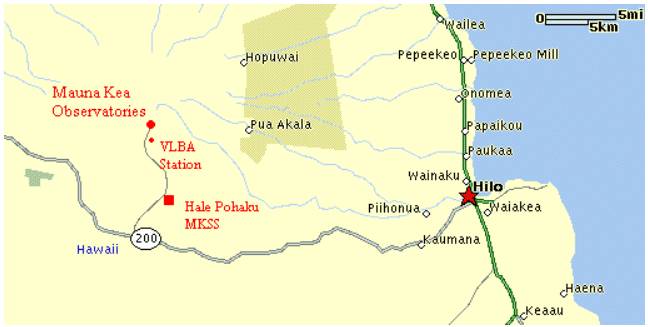 North Liberty, Iowa

From Cedar Rapids Airport travel East to I-380. Turn left and go South on I-380 towards Iowa City. Exit at F-28 North Liberty exit then go East to North Liberty, about 3 miles. Turn left or North on Rt. F-28 for about four miles Turn left at #2269 also know as County road 47. Gate is closed when no one is at the Station.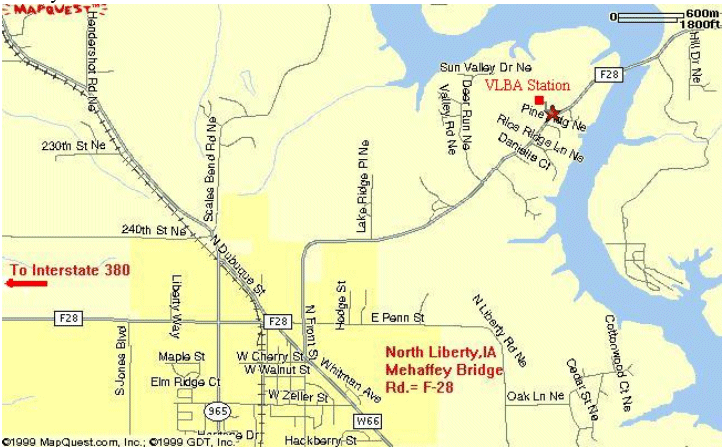 Owens Valley, California

Take US 395 South from Bishop CA. to Big Pine CA. Take highway 168 east for 2 miles, turn left on Leighton Lane (at Zurich historical marker)follow paved road for 3.5 miles. Turn right on gravel road. Follow signs to VLBA antenna.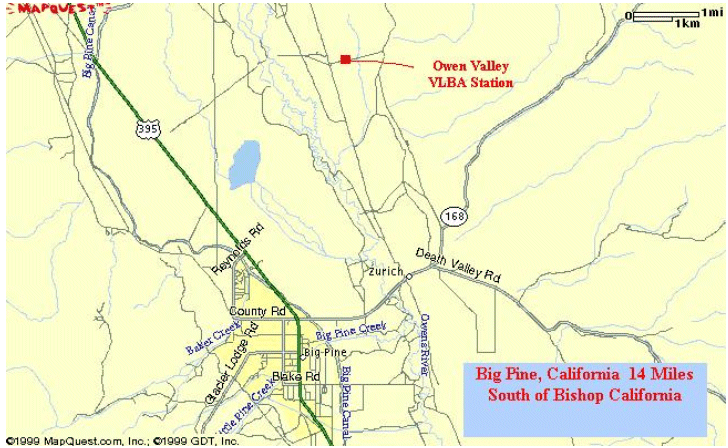 Pie Town, New Mexico

From Albuquerque, NM take I-25 South to Socorro, NM. 70 miles. Then West on Rt. 60 through Magdalena and Datil New Mexico towards Pie Town NM., Approximately 85 miles. Turn right or North at mile marker 57, about 1 mile West of the Continental Divide. Follow gravel road with yellow cattle guard North from Rt. 60 about 1/4 mile.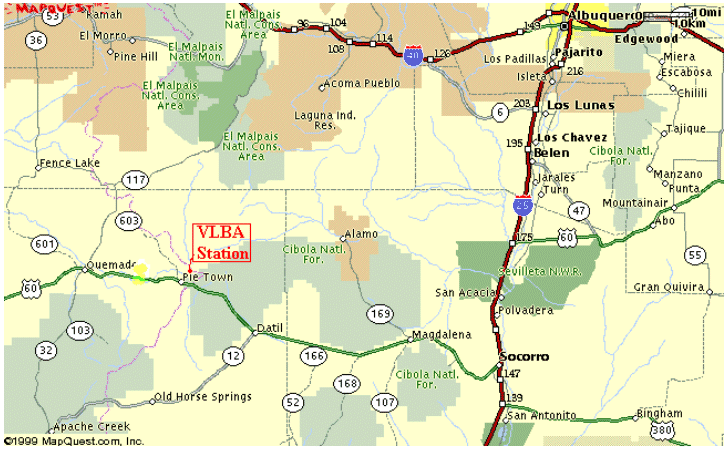 St. Croix, U.S. Virgin Islands

From Christiansted travel East on Rt. 82 (East End Road) towards Cramers Park and Udall Point. At Cramers Park, turn right to VLBA Station.