From the Director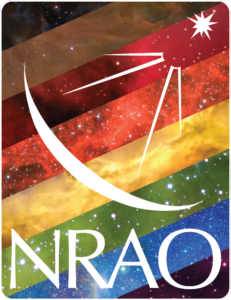 The NRAO has made a visible change to our logo for Pride month, because we want to send the clear message that NRAO values our current and future LGBTQIA+ colleagues, friends, and family members. We send this same message internally by taking seriously our obligation to create and maintain an environment that is safe, secure, and welcoming.
We recognize that our LGBTQIA+ colleagues continue to face social and legal challenges in broader society.  I am personally committed to ensuring that NRAO is a place where being yourself is celebrated. I am grateful to the many people at NRAO – those who are out, not out, and are allies – who make NRAO a place at which diversity of sexual orientation and gender identity is welcomed.
At NRAO, we aren't content with learning about diversity and inclusion; we are continually, intentionally working to identify and change policies and practices that exclude or marginalize. Our staff are empowered and encouraged to speak up when they see a need for change; to talk with each other, and to advocate for changes in policies and practices that aren't serving all of us.
I hope that NRAO has proven, and continues, to be a safe and welcoming environment for our LGBTQIA+ colleagues, both internally and in the community. If we fall short, or if there are changes that we need to make, please let me know.
– Tony Beasley
From the Employee Diversity Group
Welcome to Pride Month! Here at the NRAO, we are deeply committed to supporting, valuing, and celebrating our present and future employees however you may identify. This month, we specifically want to recognize the LGBTQIA+ community, both within the NRAO and outside it, as both important and valued contributors to science and new innovative technologies. People are what makes NRAO thrive.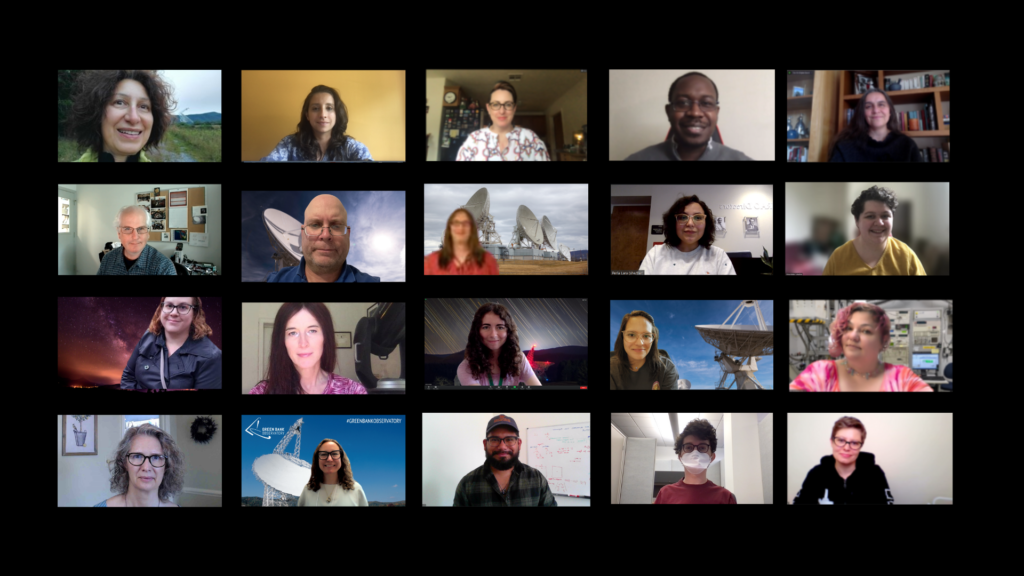 We recognize that the world is not always safe for LGBTQIA+ people. And we must accept that we need to do our part to rectify that. As a staff, it is our responsibility to create a safe, brave, and welcoming workplace for each other as well as our colleagues and partners to bring our full selves and potential in all our rainbow colors. We also recognize and celebrate those who have come before us who have advocated for changes to our laws, the workplace, and society to make them more safe. We are committed to continuing this work. We want you to feel safe at work and valued for all you bring to NRAO.
– Employee Diversity Group
Our Work, Our Commitment
The NRAO Employee Diversity Group along with our Office of Diversity and Inclusion continues to actively engage staff across the entire Observatory in discussion, connection, training, and action to identify areas for improvement and ultimately, to transform our culture with inclusion and equity at its core. This will only happen through dedicated time, resources, and long-term commitment from all of us. Here is some of what we are doing this month and throughout the year.
Employee Pride (virtual) Celebration – all staff across the Observatory are invited! Look for more details via email
LGBTQIA+ and ally connection group meeting – a chance for our LGBTQIA+ identifying staff as well as allies to gather
Weekly talks from outside speakers on topics including Juneteenth, White Supremacy, COVID life, LGBTQIA+ ally ship, and stress management
Anti-racism book clubs
How to Have Difficult Conversations training
Focus groups on examining our hiring, recruiting, and retention practices
Open discussion forums on relevant topics such as the effects of the pandemic on our lives, anti-racism, media bias, safe/brave spaces, and many more
Gender transition protocol to protect the rights or safety of transgender employees. A link to this is found here.
The communities we live and work in are an important part of our success and experiences as employees. We hope that you can find the resources you need to feel supported and offer support to our LGBTQIA+ colleagues as needed. We've put together a list of resources here. If you know of additional ones, we'd love to add them! Contact the Employee Diversity Group at edg@nrao.edu.
From the Human Resources Team
The Observatory's diversity strategic vision is to enable diversity to thrive in all areas of the Observatory.  The Human Resources department works to advance this vision by ensuring that diversity and inclusion is at the forefront of all HR programs and offerings. With strong leadership support, HR strives to provide a safe space for employees that promotes overall well-being.  Specifically, our Benefits group is committed to offering a benefits program that provides comprehensive health and wellness coverage and resources to all employees, free of discrimination on the basis of sexual orientation or gender identity.