From the Director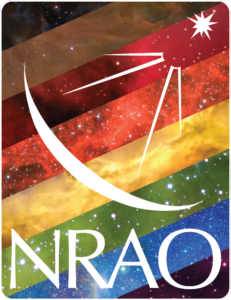 Once again in 2023, the NRAO is changing our Observatory logo for Pride month to send the clear message that NRAO values our current and future LGBTQIA+ colleagues, friends, and family members. We believe our obligation is to create and maintain an environment that is safe, secure, and welcoming. I want to be clear that NRAO stands unambiguously and firmly with the LGBTQIA+ community, and that we explicitly welcome and support our trans and non-binary colleagues.
Across many years we have seen our LGBTQIA+ colleagues facing social and legal challenges in broader society, but recently a number of anti-LGBTQIA+ bills have been introduced in legislative bodies across the U.S., many of them specifically targeted toward members of the transgender community. In my opinion, these bills threaten people's ability to access healthcare, have privacy in schools, and express themselves safely. Members of the LGBTQIA+ community are our family, friends, neighbors, and colleagues. We are committed to creating and maintaining a welcoming, safe, and supportive work environment, and back that up with commitment to a robust set of policies, practices, and expectations. We take our Code of Conduct very seriously. You can also reach out to the Office of Diversity & Inclusion (lvonschi@nrao.edu), Human Resources (hr@nrao.edu), and the Employee Diversity Group (edgmembers@nrao.edu).
We understand that some of us may have an imperfect understanding of what it means to be a member of the LGBTQIA+ community. We will continue to offer information and training to improve our ability to ensure that our LGBTQIA+ colleagues feel included and supported. Our staff members are empowered and encouraged to speak up when they see a need for change; to talk with each other, and to advocate for changes in policies and practices that aren't serving all of us.
I hope that NRAO has proven, and continues, to be a safe and welcoming environment for our LGBTQIA+ colleagues. If we fall short, or if there are changes that we need to make, please let me know.
– Tony Beasley
From the Employee Diversity Group
Welcome to Pride Month! Here at the NRAO, we are deeply committed to supporting, valuing, and celebrating our present and future employees however you may identify. This month, we specifically want to recognize the LGBTQIA+ community, both within the NRAO and outside it, as both important and valued contributors to science and new innovative technologies. People are what makes NRAO thrive.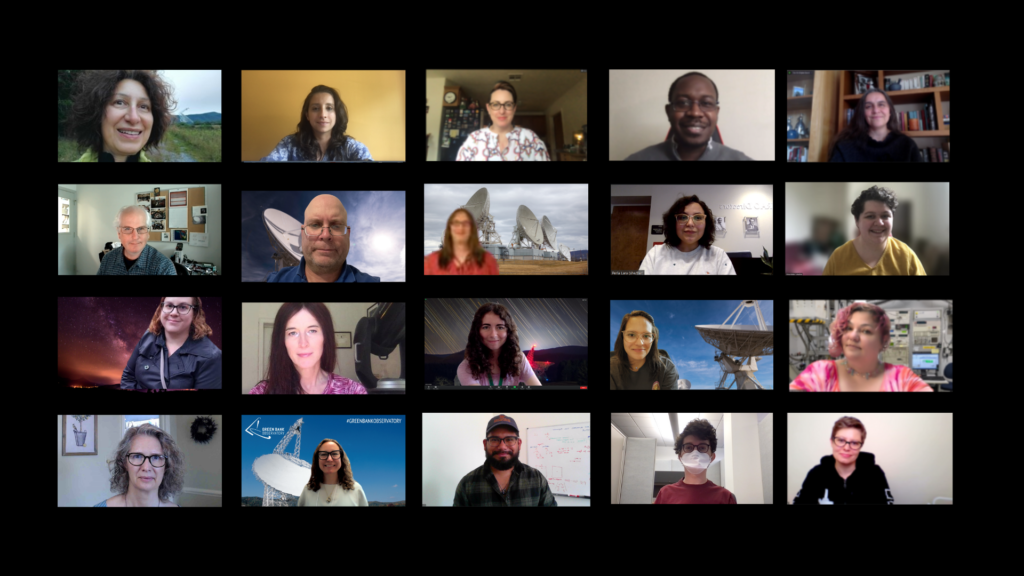 We recognize that the world is not always safe for LGBTQIA+ people. And we must accept that we need to do our part to rectify that. As a staff, it is our responsibility to create a safe, brave, and welcoming workplace for each other as well as our colleagues and partners to bring our full selves and potential in all our rainbow colors. We also recognize and celebrate those who have come before us who have advocated for changes to our laws, the workplace, and society to make them more safe. We are committed to continuing this work. We want you to feel safe at work and valued for all you bring to NRAO.
– Employee Diversity Group
Our Work, Our Commitment
The NRAO Employee Diversity Group actively engages staff in discussions and training to promote inclusivity and equity within our work culture. However, we understand that meaningful change takes time, resources, and long-term commitment from all of us. Therefore, support and collaboration from the Office of Diversity and Inclusion are essential to our mission.
Here's what we're doing this month and throughout the year:
Employee Pride (hybrid) Celebration for all staff. Details are to be emailed.
External speakers' monthly talks cover topics like Juneteenth, White Supremacy, LGBTQIA+ allyship, and stress management.
Training and conversations focusing on best practices for Diversity & Inclusion at NRAO.
Implement a gender transition protocol to protect the rights and safety of transgender employees (link provided)
We value the communities we live and work in, as they contribute to our success and employee experiences. We have compiled a newsletter with local events and resources to provide support for LGBTQIA+ colleagues. For additional help, don't hesitate to contact the Employee Diversity Group at edg@nrao.edu.
From the Human Resources Team
The Observatory's diversity strategic vision is to enable diversity to thrive in all areas of the Observatory.  The Human Resources department works to advance this vision by ensuring that diversity and inclusion is at the forefront of all HR programs and offerings. With strong leadership support, HR strives to provide a safe space for employees that promotes overall well-being.  Specifically, our Benefits group is committed to offering a benefits program that provides comprehensive health and wellness coverage and resources to all employees, free of discrimination on the basis of sexual orientation or gender identity.