Announcements
To reduce the risk of exposure to the COVID-19 virus by both our staff and our visitors, the Very Large Array is CLOSED to the public until further notice. NO PUBLIC SERVICES ARE AVAILABLE
Visiting the Very Large Array
Plan Your Visit to the VLA
The Very Large Array Radio Telescope facility is a two-hour drive from Albuquerque, 50 miles west of Socorro, New Mexico. The Visitor Center features an award-winning documentary narrated by Jodie Foster, plus exhibits describing radio astronomy and the VLA telescope. A self-guided walking tour features large, informative signs and takes you to the base of one of the giant dish antennas. A gift shop offers VLA souvenirs and educational materials.
VLA Electronic Device Policy
When visiting the VLA, please have all electronic devices (cell phones, tablets, or anything else with an "On/Off" switch) in airplane mode and powered off. If you plan to use your electronic device to take photographs, you may briefly turn them on (while in airplane mode) to take your pictures, and then power your device off again once you've done so.
Please turn all WiFi and Bluetooth devices off as well.
What configuration is the VLA in?
Find out here
Severe weather may force us to close unexpectedly.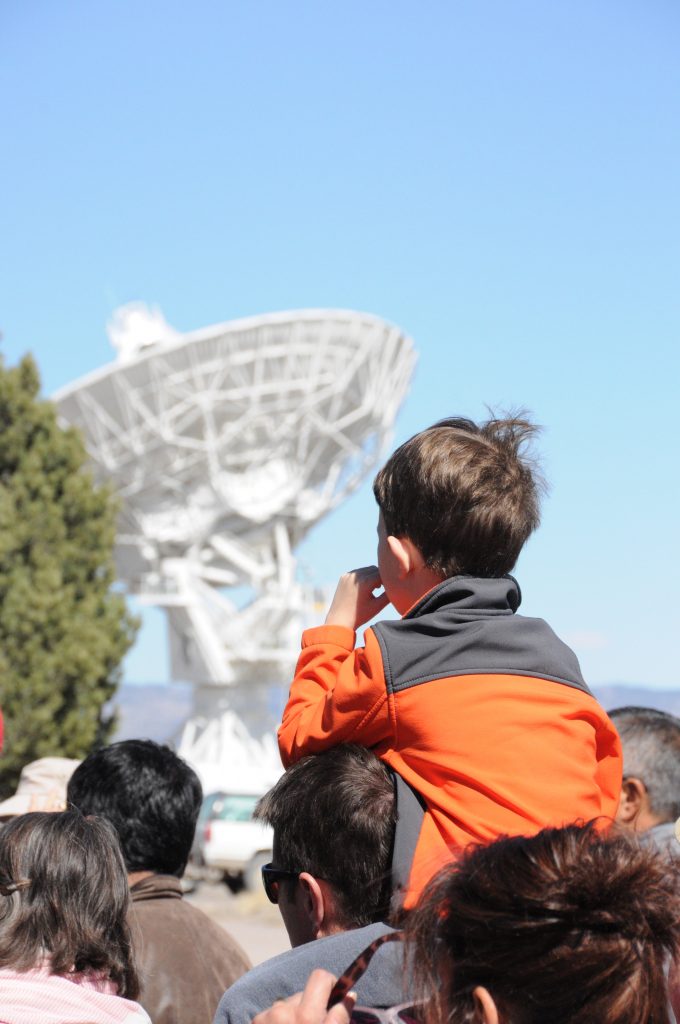 Hours
The VLA is currently closed to the public.
Until we re-open, please call 505-515-5780 if you have any questions or are seeking further information.
When we reopen, we will return to these normal operating hours:
Site Open: 8:30am -
Sunset
daily
First Saturday Tours:
temporarily suspended
Third Saturday Tours:
temporarily suspended
Gift Shop: 9:00am - 4:00pm daily*
*closed Thanksgiving, Christmas Eve, Christmas Day, and New Years Day
Location
The Plains of San Agustin
Hwy 60
Magdalena, NM 87825
Please note that the VLA does not have a physical address. If using a GPS to reach the VLA, enter these coordinates:
34 04'43.497N, 107 37'05.819W
Map
Admission
Adults: $6.00
Seniors (65+): $5.00
Ages 17 and under are always FREE
Socorro & Catron County Resident bringing a paying guest is free.
Contact
Gift Shop Phone Number: 575-835-7410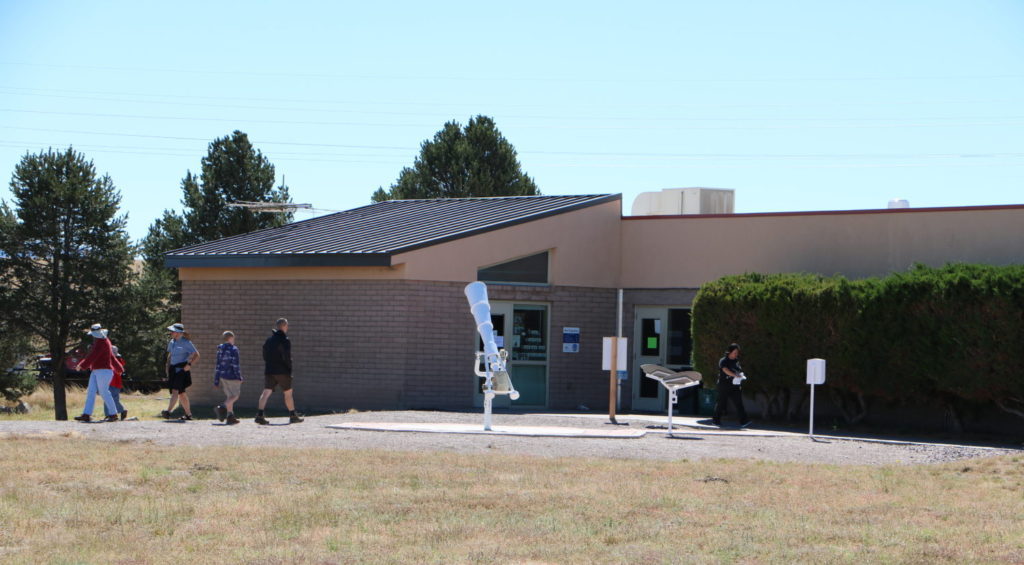 Visitor Center
The VLA Visitor Center and Gift Shop are closed until further notice.
The Visitor Center is open every day from 8:30am until sunset. Upon arrival, please check in at the Gift Shop to pay admission and receive your informational brochure. You are free to explore our exhibits, where you will learn more about radio astronomy and the role the Very Large Array and other NRAO telescopes play in current research. You can also view several short videos that explain more about what happens at the VLA and how it works. A 5-minute silent video will show you how we move antennas. In the auditorium is a 23-minute documentary, produced in 2013 and narrated by Jodie Foster. The documentary is an overview of radio astronomy, interferometry, and the VLA itself.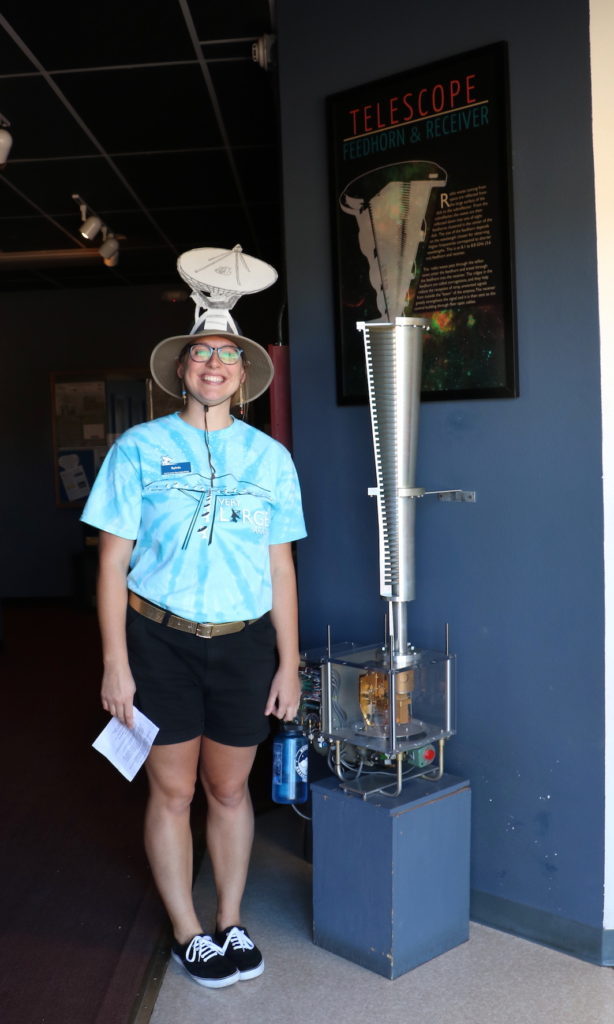 Tours & Events
Walking Tour
NOTE: The VLA site is closed to the public until further notice.
The walking tour will take you to our Radio Sundial, past our Whisper Dish Gallery, on to our Radio Astronomy Gallery, and finally to the base of one of the 230-ton working antenna on the array! From there you will head toward the control building's outside staircase to the observation deck for a view of the array itself and details about the supercomputer processing taking place inside the control building. The walk returns you to the Visitor Center where you are welcome to browse through our Gift Shop for unique souvenirs. The Gift Shop opens almost every day at 9:00am and closes at 4:00pm.
Pet Policy: Pets are welcome in all public areas of the Visitor Center and walking tour. If the Control Building is part of the tour on a First and Third Saturday, this is not a public area, and no pets are allowed. If you have a service dog with you, please notify the staff that you have a service dog for your disability and what work or task the dog has been trained to perform and we will do our best to accommodate your dog on the tour.
First and Third Saturday Tours
NOTE: All First and Third Saturday guided tours are suspended until further notice.
The VLA hosts three guided tours on the first and third Saturday of each month at 11:00 a.m., 1:00 p.m., and 3:00 p.m. No reservations are required, simply show up at the VLA Visitor Center 30 minutes before the desired tour time. These guided tours last about 50 minutes and take visitors to areas behind-the-scenes at the VLA. Staff and VLA Volunteers are on hand to answer questions. Once again, no reservations are required.
The First Saturday Tour event culminates in an evening of free Guided Night Sky Telescope Viewing at the Etscorn Observatory on the Campus of NM Tech located in Socorro. The night time event begins at dark and lasts two hours*, no reservations required.
*This event takes place despite cloudy nights or other weather issues that keep us from being able to use optical telescopes. If the weather conditions are not favorable for telescope viewing we host visitors inside the Observatory classroom space offering a Q & A "Ask an Astronomer" session that may last 30 to 45 minutes only.
No night sky viewing is available at Etscorn Observatory for Third Saturday events at this time.
Group Tours
NOTE: All guided group tours are suspended until the end of May 2020.
For educational groups, we provide guided tours (if available!). We need at least three weeks' notice to arrange a guided tour. To arrange a guided tour for your education group, give our Education and Public Outreach office a call at 505-515-5780 or fill out the Guided Tour Reservation form:
Spring and Fall VLA Open House Events
NOTE: The Spring Open House on April 4, 2020 is cancelled.
First Saturday Tours in April and October are our free Open House Events. Guided tours begin at 11:00 a.m. with the last tour beginning at 5:00 p.m.VLA Open House Events are always FREE. These free tours are hosted by NRAO Staff, last about an hour, and take the Visitor through VLA Operations. NRAO Staff are on hand around the VLA Site to answer questions and interact with the public. As with First Saturday tours, Night Sky observing is offered at Etscorn Observatory on the campus of NM Tech in Socorro.
The Very Large Array Radio Telescope is a two hour drive from Albuquerque, 50 miles west of Socorro, New Mexico.
When driving west from Socorro:
Travel through the small town of Magdalena and continue on US-60.
Turn left onto NM-52 just west of mile marker 93.
Drive 2.5 miles then turn right on NM-166 (Old Highway 60).
Drive 1.6 miles and the VLA Visitor Center will be on your right.
When driving east from the Arizona border on US-60:
Drive through the town of Datil. Just past mile marker 90 you will cross rail road tracks that mark the North arm of the array.
Continue east on US-60 past mile marker 92 and turn right onto NM-52.
Drive 2.5 miles and then turn right on NM-166 (Old Highway 60).
Drive 1.6 miles and the VLA Visitor Center will be on your right.
Note: NRAO has offices located in Socorro, NM, and entering "Very Large Array" into direction-finding services may sometimes direct you to this location. Use the Google map below to get directions to the VLA Visitor Center. GPS coordinates for the site: 34 04'43.497N 107 37'05.819W. Please note that you may not have cellular or data reception within several miles of the VLA. All roads leading to the VLA are paved. If you are on a dirt road you are not on the correct route.
More To Do in the Area
Wondering what else to do while you're in this unique area? There's plenty more! Our neighboring cities of Socorro and Magdalena offer art studios, shopping, and dining. Beyond the VLA to the west are Datil and Pie Town, offering unique dining experiences.
Bosque del Apache National Wildlife Refuge
Enjoy expansive vistas, exquisite light, and bird songs, while getting closer to wildlife than you can in almost any other wild place. There are many ways to experience the wonder of this special habitat – you can hike, watch wildlife, photograph, educate yourself, or just breathe, meditate, and relax. Bosque del Apache offers its magic to you in every season.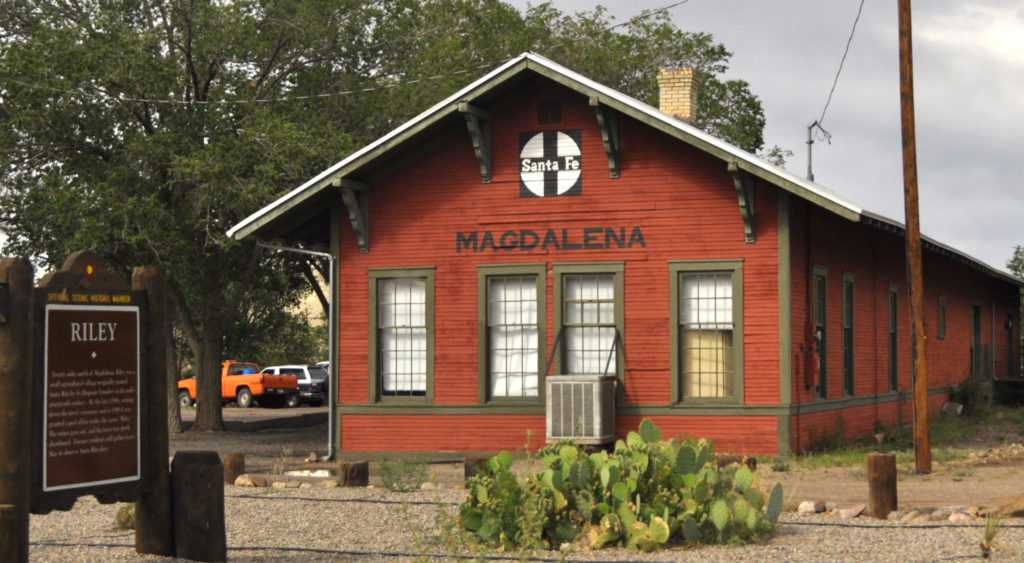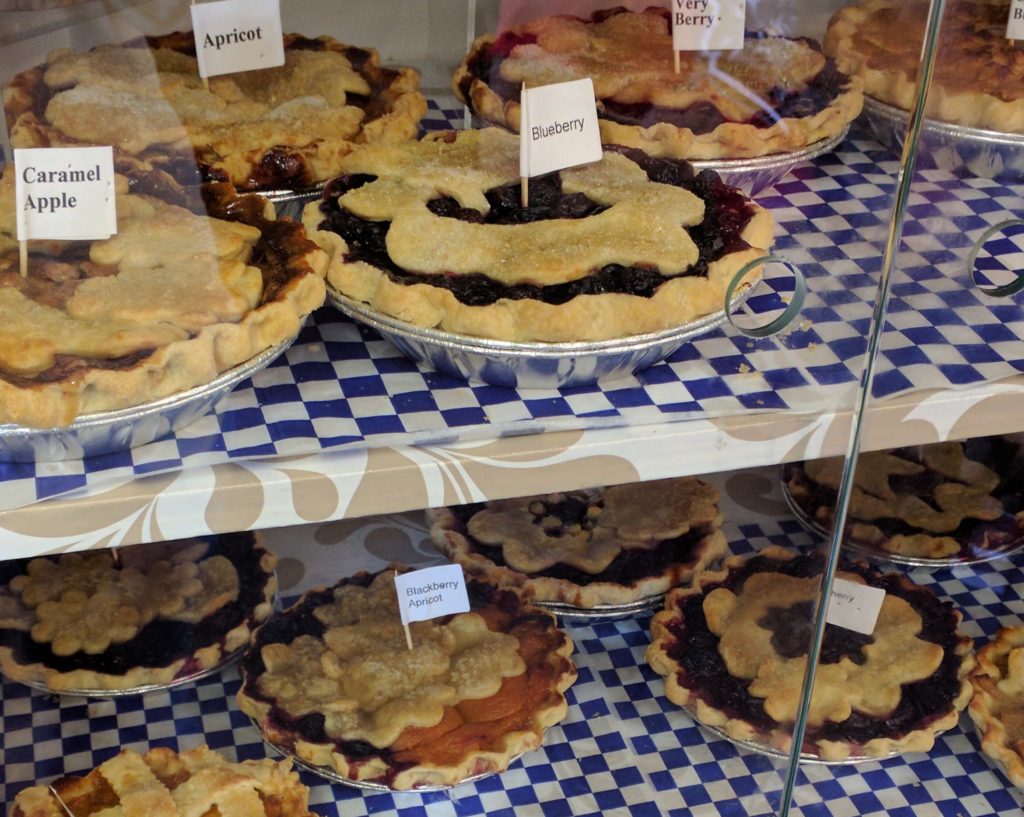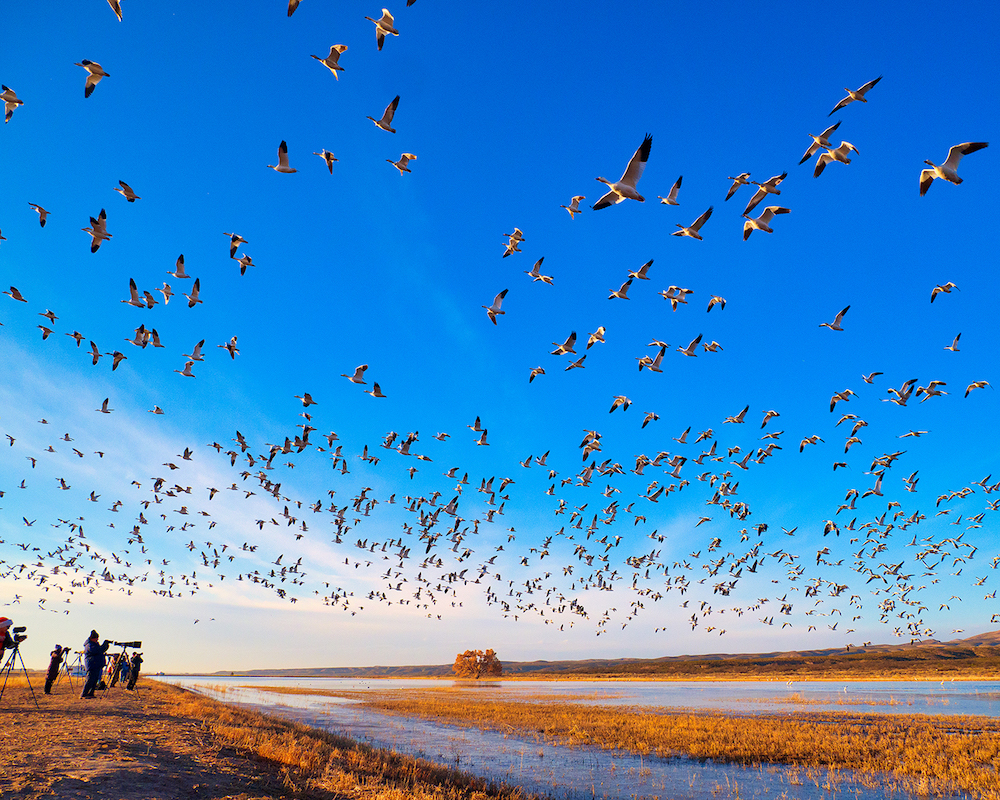 Photo by: Lynne Braden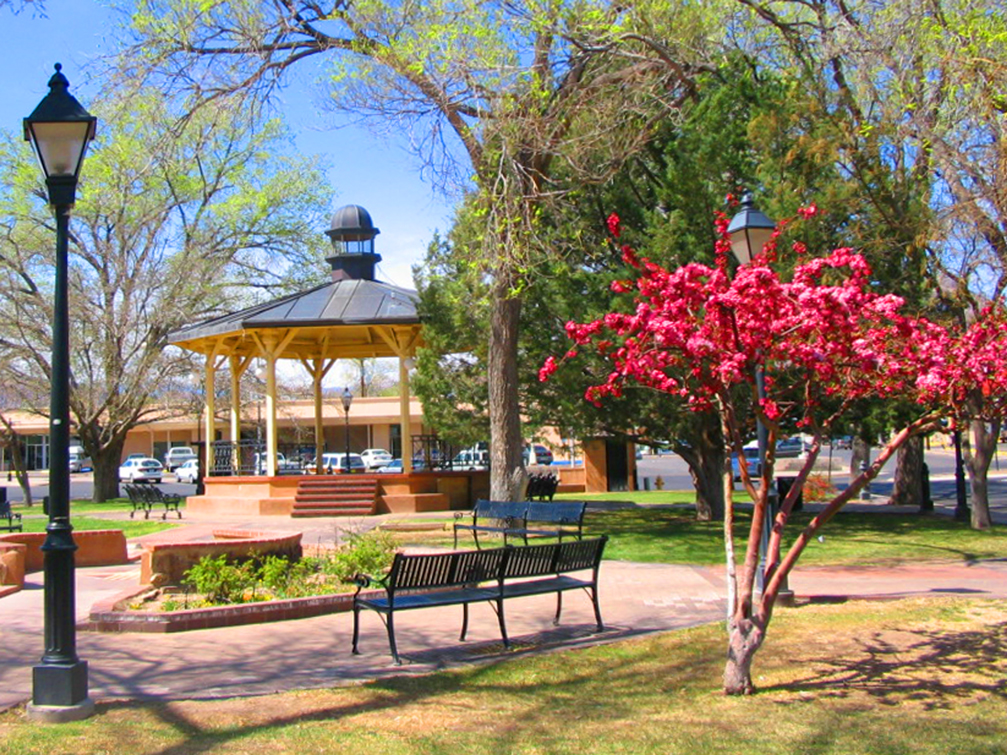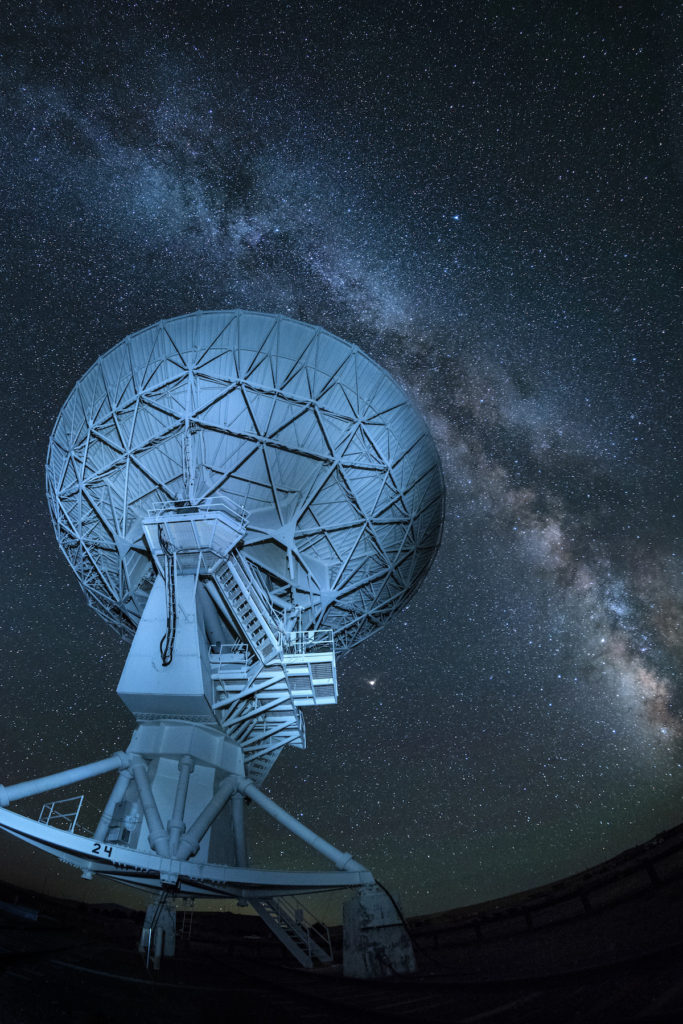 Photography and Filming
As noted above, visitors to the VLA may photograph what they see from the designated self-guided walking tour. However, any filming or photography done by a commercial or professional entity, or that is done by anyone, amateur or professional, from areas not authorized for general-public tourists or outside the hours authorized for general-public tourists, is considered to be "commercial." Such photography must be approved in advance, and requires completing an application process, coordinating with NRAO staff, and payment of fees.
There are no exceptions. Any nighttime photography or any photography from anywhere other than the designated walking-tour path requires going through the advance-approval process and paying all fees. This applies to everyone, amateur and professional alike.
Full information on commercial photography and filming, along with the required application form, is provided below. Please return application to dfinley@nrao.edu.