Globular clusters are dense spherical groupings of stars. They are old and hold clues about the history and evolution of stars and galaxies. But astronomers aren't entirely sure how they formed. Grace Krahm is a student at Agnes Scott College, and for her summer research she studied their origin by looking at super star clusters.
Like globular clusters, super star clusters (SSCs) are extremely dense groupings of stars. But unlike globular clusters, SSCs are composed of very young stars. Given their similarities, globular clusters could have formed under the same type of conditions as SSCs. So Grace looked at the environment of SSCs using data from the Atacama Large Millimeter/submillimeter Array (ALMA).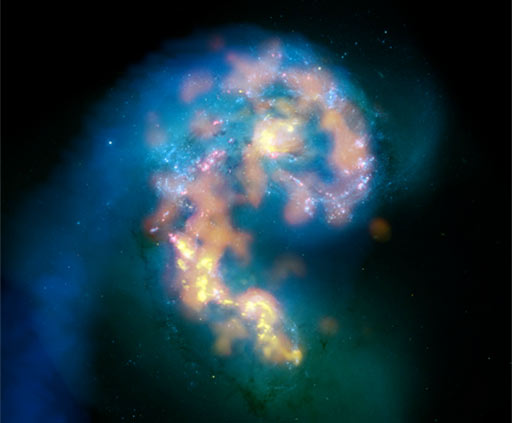 Grace focused her study on the Antennae Galaxies, which are a pair of colliding galaxies. Within a region known as the Antennae Overlap, there are young super star clusters. Grace used carbon emission lines to map the distribution of molecular gas within the region and found that molecular gas around SSCs has an energy density much higher than that of typical star-forming regions. The energy density is similar to regions near the center of the Milky Way. But SSCs aren't found in the center of our galaxy. This means high-energy molecular clouds are needed to form super star clusters, but there must be additional factors as well, and those factors are still TBD.
You can read Grace's paper on this work here.