If you take U.S. Highway 60 west out of Socorro, in fifty miles you'll bump into the Very Large Array (VLA). This iconic radio astronomy facility houses the largest configurable array in the United States. The telescope, consisting of 27 antennas— plus one spare — has been at the center of pioneering scientific research for almost forty years, enabling discoveries such as finding ice on Mercury (this planet's proximity to our Sun does not make it the hottest); and the first Einstein RingEinstein RingA ring- or arc-like image created when light emitted from a distant source is bent by the gravitational influence of a massive foreground object. This effect is called gravitational lensing; it allows astronomers to observe objects that would otherwise be too distant to study. observed in 1987 by Jaqueline Hewitt of MIT and other observers.
Nearly 2,700-miles long, U.S. Highway 60 once originated in Los Angeles but was incrementally truncated in the 1960s by I-10 as L.A.'s primary link with Arizona and points eastward. The route's second genesis begins in Brenda, AZ and rambles through nine states until it reaches its terminus close to Virginia Beach.
U.S. 60 climbs steadily westward from the Rio Grande Valley at Socorro skirting Socorro Peak with its 'M' and then swings across the Snake Ranch flats before passing north of the Magdalena Mountain. From Magdalena, an old mining and ranching town that now hosts a thriving artists community, another eleven miles brings one to a divide covered with piñon and juniper woodland. Beyond lie the Plains of San Augustin, an unbroken expanse of grassland rimmed with gentle mountains (the San Mateo Mountain range to be exact).1 This has been the site of the Very Large Array for the last forty years! There's no obvious landmark foreshadowing the first real glimpse of the antennas, but there is no way to miss it.
The U.S. highway system, built in 1926, and the more efficient interstate network, constructed around 1956, was created for commerce, of course. But these roads, carved from rock outcrops dating back to unimaginable human timescales, are a traveler's — and geologist's — windfall. These highway systems, with their maze of arteries and road cuts, crisscross east to west for the even numbered roads and north to south for the oddly numbered ones.
There's a reason the Array was built on a highway and not an interstate. Radio Frequency Interference (RFI) from satellites, cell phones, air traffic and automobile navigation systems, to name just a few, can interfere with the science that astronomers from all over the world do here. These already weak radio signals, emanating from millions and billions of light-years away, are competing with the technological habits of humans in order to be observed and studied.
The VLA gets about 30,000+ visitors every year. Most people come during the months of April through October, when our two bi-annual open house events bookend the busiest summer travel. These free open tour days are where scientists and astronomers are on hand to give tours and answer questions throughout the day.
Radio astronomy devotees abound — the movie Contact still resides strongly in people's imaginations, but there are others who are simply captivated by the sheer awesomeness of the telescope. Then there are a really small subset who visit the array multiple times to compare its different configurations.
Michael Kinzer belongs to this small subsection of astronomy enthusiasts. For last two years, he has taken a detour off the Interstate to visit the Array, traveling about a hundred miles off his main transport route to see these antennas — instruments, by the way, that have probed the curvature of space time, mapped large-scale structures of gas and molecular clouds and identified ejections of plasma from supermassive black holes.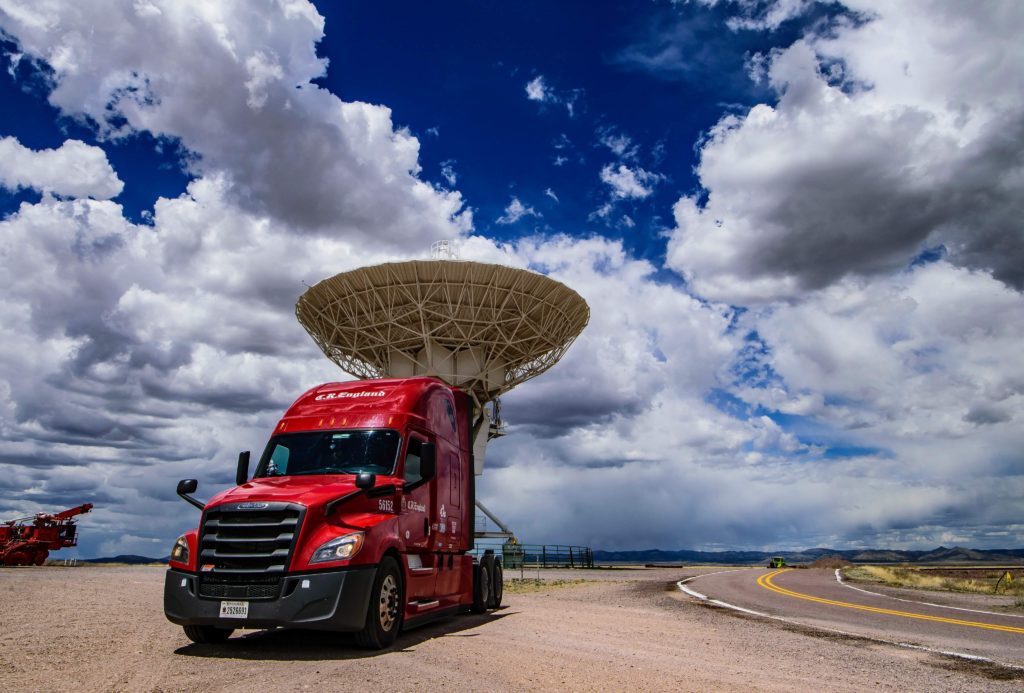 Michael is a self-described child of the APOLLO era. He vividly remembers watching massive Saturn V Rockets lifting off from the Kennedy Space Center in the late 1960s, and, like the other 500 million television viewers, was glued to the television as Neil Armstrong stepped on to the Moon and uttered those famous words. Out of the blue Michael sent us a collection of photos from his last two trips documenting how the Array looks in two different configurations (B and D: the second largest- and shortest- length configuration, respectively). He credits his interest in the Very Large Array as an extension of this early fascination.
B Configuration
The Very Large Array is a moveable collection of antennas. Each antenna can be picked up by a specially designed, heavy duty transporter and slowly relocated along home spun train tracks. By changing the arrangement of antennas, astronomers can get different views of celestial objects. The configuration Michael photographed below — B — is the second longest one, spreading out seven miles across the Plains. The wider the antennas are placed, the more detail an astronomer can see.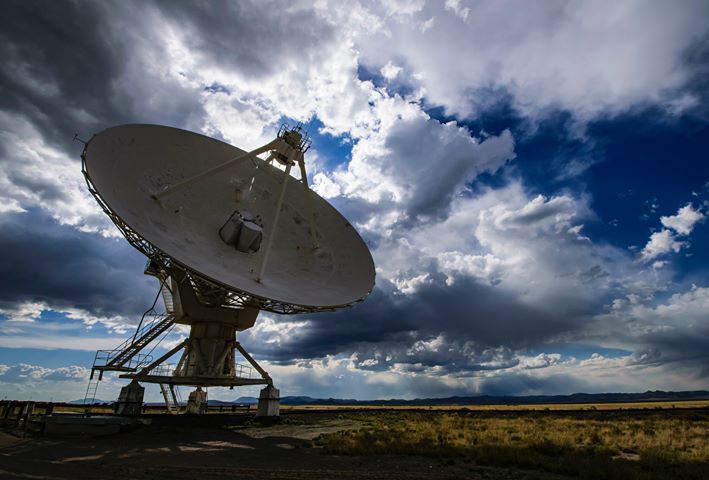 D Configuration
Every four months the antennas change positions, because the resolution of the telescope is set by the size of the array. In the smallest arrangement — D config. — the antennas are bunched together at a width of less than 1 KM. This tiniest of configurations allow astronomers to glimpse the big picture of a celestial source. The images below depict an object in different states of resolution using a combination of old and new VLA sky surveys.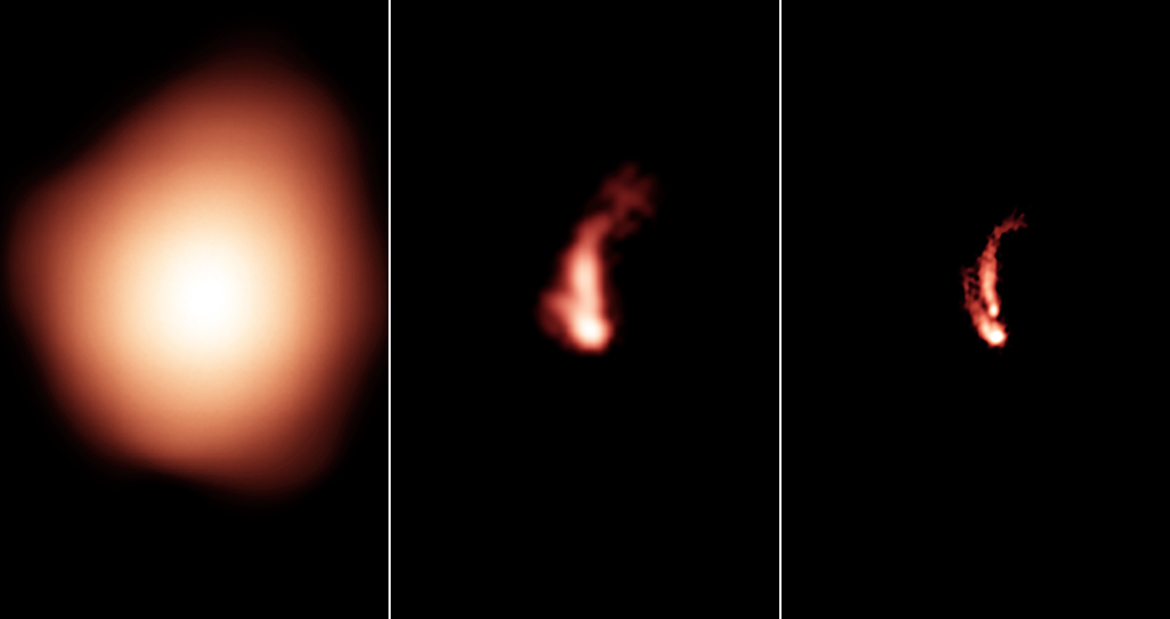 Road trips are one of the quintessential American experiences and represent about 22% of vacations taken throughout the continental U.S.
Instagram tagging is good for getting some quick (unofficial) stats and stories about the number of road trips people take to this iconic Array. One visitor kept coming up in our notifications, posting photos about a cross country road trip that started in Guadalajara and ended somewhere in the U.S Rockies. The visitor, Richard Armenta, from Mexico City, spent multiple weeks with six friends traveling across the southwest. After corresponding with him throughout part of his trip, he shared maps of his travels and some of the photos he took on his stop to the VLA. To check out more of these stories, follow #VeryLargeArray on Instagram.